CEL620B Octave Band Sound Level Meter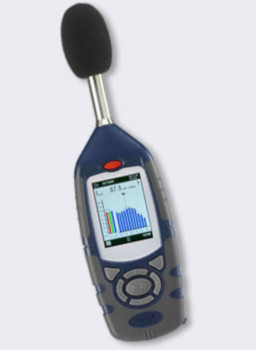 CEL620B Sound Level Meter
Overview
The CEL620B is an Integrating Sound Level Meter with Real-Time Octave Band Filters. This meter provides you with all the measurements needed for a full noise at work survey and detailed hearing protection assessment.
Occupational noise measurement
Hearing protection assessment (Octave Band method)
Quick and easy to use
Simultaneous measurement of all parameters (LAeq, Max, Min, etc)
Single range 20 to 140 dB
Real-Time Octave Band Filters
Standards
IEC 61672 - Class 1 or Class 2
IEC 60651 and IEC 60804 - Type 1 or Type 2
IEC 61260 Class 0 (Octave Band Filters)
European Physical Agents (Noise) Directive 2003/10/EC
Octave Band Sound Level Meter
The CEL620B provides a large set of parameters, such as "A" and "C" weighted Max, Min and Peak. As an Integrating sound level meter, it also provides the average sound level Leq. All measurements are made in parallel, which means you do not need to decide beforehand which ones you need - they are all stored.
At the same time the meter measures the Octave Band spectrum in all bands at the same time, ensuring the measurement process is quick and easy - one measurement includes all parameters, both broadband and octave.
Noise at Work Regulations
The EU noise at work regulations - Physical Agents (Noise) Directive 2003/10/EC - and the UK HSE guidelines (Controlling Noise at Work) state that noise measurements should be made using a calibrated Class 2 Integrating Sound Level Meter capable of measuring the "A" weighted Leq (LAeq). For environments with loud banging noise the meter should also measure the "C" weighted Peak (LCpeak).
All the CEL620B models meet these requirements and so are perfect for a noise at work assessment. The octave band measurements can then be used to assess the suitability of hearing protectors.
Data Logging and Insight Software
The CEL620B comes complete with data logging capability with measurements stored in the meter's internal memory. When connected to a Windows computer, the meter acts like a memory card (shows as a removable drive) so the measurements can be loaded into a spreadsheet or moved to your hard drive for long term storage. There is no need to buy and install special software, which can be a real benefit on a company networks where installation of software is not encouraged.
For noise at work assessments you can also use our NoiseMeters Applications web based system. Measurements can be transfered to our server without the need to install software and reports generated from within your web browser. For NoiseMeters Application please include item NMAPPS with your order.
If you want a little more than just loading the measurements into a spreadsheet then the Insight software simplifies the process of downloading the measurements, storing them in a database, managed by person, place or process criteria. To get the Insight software for the CEL620B include item ISC020 with your order.
Our Recommendation
For noise at work measurements where sound levels are very high, we recommend order code CEL620B2-K, which includes the Class 2 CEL620B2 and Calibrator. The standard meter is data logging and measurements can be transferred to a spreadsheet or through our NoiseMeters Applications.
---